Game Stop Free Shipping Free Value Shipping on purchases of $24.99 or more. Excludes Consoles and Laptops. Use Code SAVER for discount to apply. Other Restrictions may apply. Expires 12/31/2014.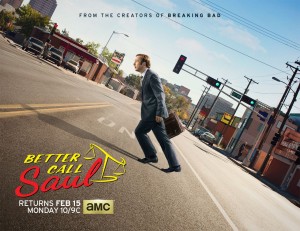 Well spring TV is coming back, with walking dead's mid season premier that happened yesterday and now Better call saul is back with more witty jokes and swindling like there was in the first season. *there may be spoilers*
Once again the show starts off at jimmy's job at cinnibon where he's living the easy life, we then cut back to 2003 or 2004 New mexico after he just given up about a million dollars in tax-free money and now regrets it, he's offered a job at a law firm and declines and decides to spend his time ripping off expensive hotels.
This was a good premier, though the recap could be a bit better because I completely forgot where the money he gave up came from only complaints I have other than that it was quite entertaining, mike was cut ties with daniel after daniel decided to be a greedy bastard and said paying for his protection is useless and not needed of course this leads to no good.
What can I say this was a good start to the season and the season is going to be a good one and if you've read this and haven't seen it yet well season 1 is on Netflix and season 2 is just starting out so you can catch up pretty fast and I highly suggest giving it a shot because it's really good and if you're a breaking bad fan you should already be watching this because it's paying real good homage to the original series.